27 août 2018
Arc en ciel en bengali
Une page se tourne avec l'histoire du Rongdhonu Friendship Hospital qui a marqué le dernier commandement à la mer d'Alain Connan à l'âge de 80 ans, celui-ci nous transmet en détails le parcours du navire hopital stationné au Bengladesh.
nous vous en parlions ICI en 2012

Friendship and Greenpeace celebrate Rongdhonu Friendship Hospital's (former Rainbow Warrior II) last mission
Cox's Bazar, Bangladesh – August 27, 2018
After 61 years at sea, including 21 years protecting the global environment with Greenpeace and over 5 years providing healthcare service to over 160,000 beneficiaries in the remotest areas of the Bay of Bengal, the Rongdhonu Friendship Hospital, formerly known as the Rainbow Warrior II, will conclude its incredible journey with a last mission to Kutubdia.
From 27-28th September 2018, the Rongdhonu Friendship Hospital will perform its last mission in Bangladesh, in the isolated area of Kutubdia. Friendship's team will organise an eye camp as well as minor surgeries among the vulnerable communities of Kutubdia. This last mission will conclude a 5 and half year journey with Friendship, which started in January 2013. Doctors from all over the world have supported this iconic vessel during its second life as a seafaring hospital ship.
After spending the majority of its lifetime on a mission with Greenpeace to protect the global environment, the Rainbow Warrior was donated by Greenpeace International to Friendship to help protect some of the most vulnerable communities impacted by climate change. The boat was renamed Rongdhonu Friendship Hospital, Rongdhonu meaning Rainbow in Bangla. Thanks to Friendship's teams and partners, 163,753 patients have been treated on board during those 5 years, 87 specialized health camps have been organized and 5,393 surgical interventions have been performed, giving these marginalised people an opportunity to live with dignity and hope.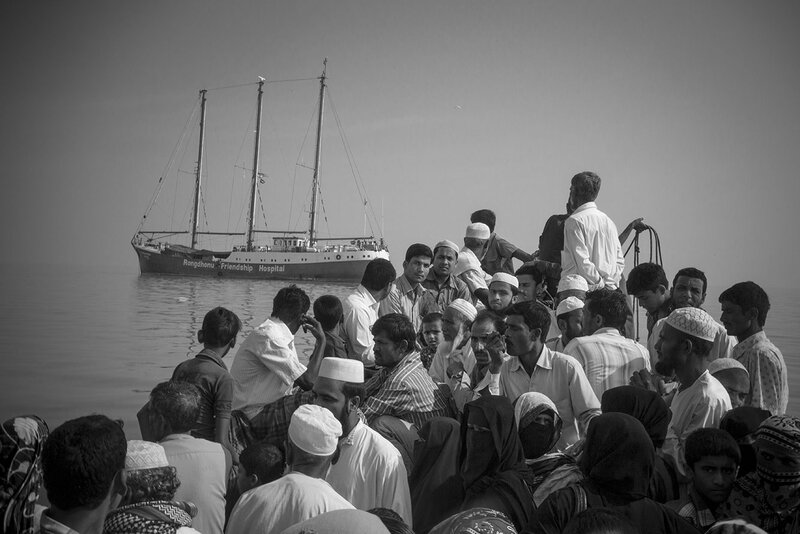 "From the beginning our aim was to gradually strengthen our 3-tier healthcare system so that the delivery of adequate health services in those coastal areas become less dependent on the periodic visits of the Rongdhonu Friendship Hospital ship. We have now set up in place the system, though still strengthening it with the Government of Bangladesh, to ensure continuing service to beneficiaries", said Runa Khan, founder and executive director of Friendship.
The decision to discontinue the Rongdhonu Friendship Hospital's activity and retire the iconic ship is consistent with Friendship's standards of quality and efficiency in the use of its resources. Certification played a major role. Presently, the ship's Class Certification is provided by DNV-GL. As the ship has become old, DNV-GL and the Bangladesh Maritime Administration have indicated that they would not be in a position to extend the classification and registration of the ship further.
"After a lifetime serving humanity, our second Rainbow Warrior deserves a clean and handsome farewell. We take this opportunity to salute a long-serving friend," said Daniel Rizzotti, Greenpeace International representative on board during the final voyage.
About Friendship:
Friendship is a non-governmental organisation nurturing opportunity, dignity and hope in vulnerable communities in Bangladesh. Founded by Runa Khan in 2002, Friendship began with the innovative concept of a floating hospital and progressively built its distinctive integrated community development model, which includes health, education, climate change adaptation and disaster management, sustainable economic development, inclusive citizenship, and cultural preservation giving access to 4.2 million people.
About Greenpeace:
Greenpeace is an independent global campaigning organisation that acts to change attitudes and behaviour, to protect and conserve the environment and to promote peace. It comprises 26 independent national/regional offices in over 55 countries across Europe, the Americas, Africa, Asia and the Pacific, as well as a co-ordinating body, Greenpeace International. The global organization does not accept funding from governments, corporations, or political parties.
For further information:
Commentaires sur Arc en ciel en bengali